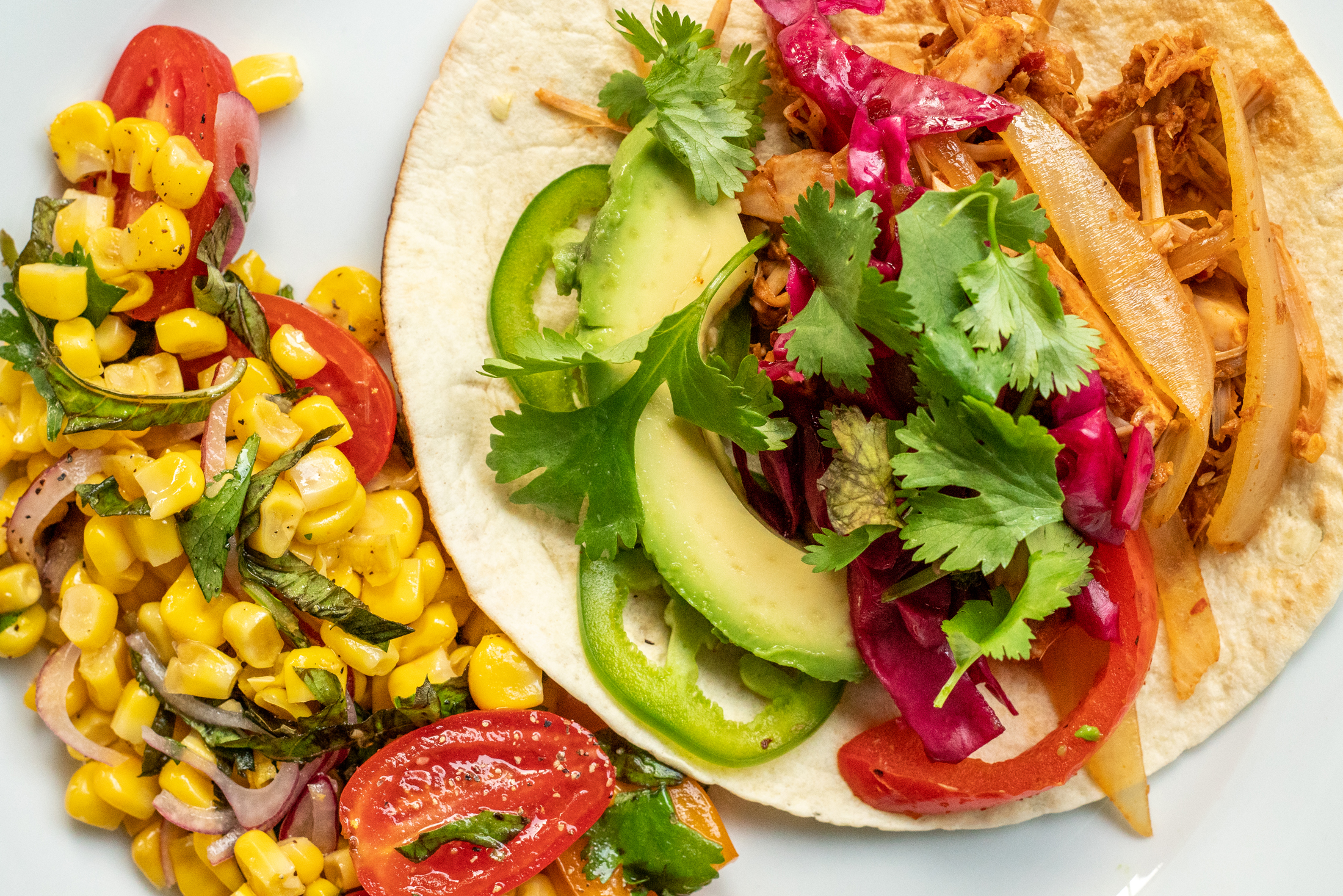 May 29, 2022
Issue 2
Meatless & Marvelous
I arrived at the corner of Fleming and William Street and locked my bike. In front of me was the newly renovated Williams Hall, and I had reserved a seat that evening at a four-course dinner at Unity Table, their culinary arts and education program. My good friend Abigail Houff, chef and jewelry designer extraordinaire, was the guest chef. Abigail specializes in delicious plant-based cooking, and over the past month I'd been the lucky taste test subject. Now it was show time.
I found my way up the stairs to the Unity Table kitchen, where Culinary Director, Chef Martha Hubbard, creates her magic at weekly dinners, and guest chef Abigail was ready to wow us with veggie delights. The communal table was already filled with guests, and the wine and conversation were flowing. I recognized a lot of local faces and my favorite server, Daniel, who immediately took my wine order. Daniel knows my go-to-wine is a crisp rose; I quickly had a glass in hand and circulated to say my hellos. Before too long, Martha announced (or yelled) over the now wine-induced conversation that the evening was about to begin, and that we should find our seats.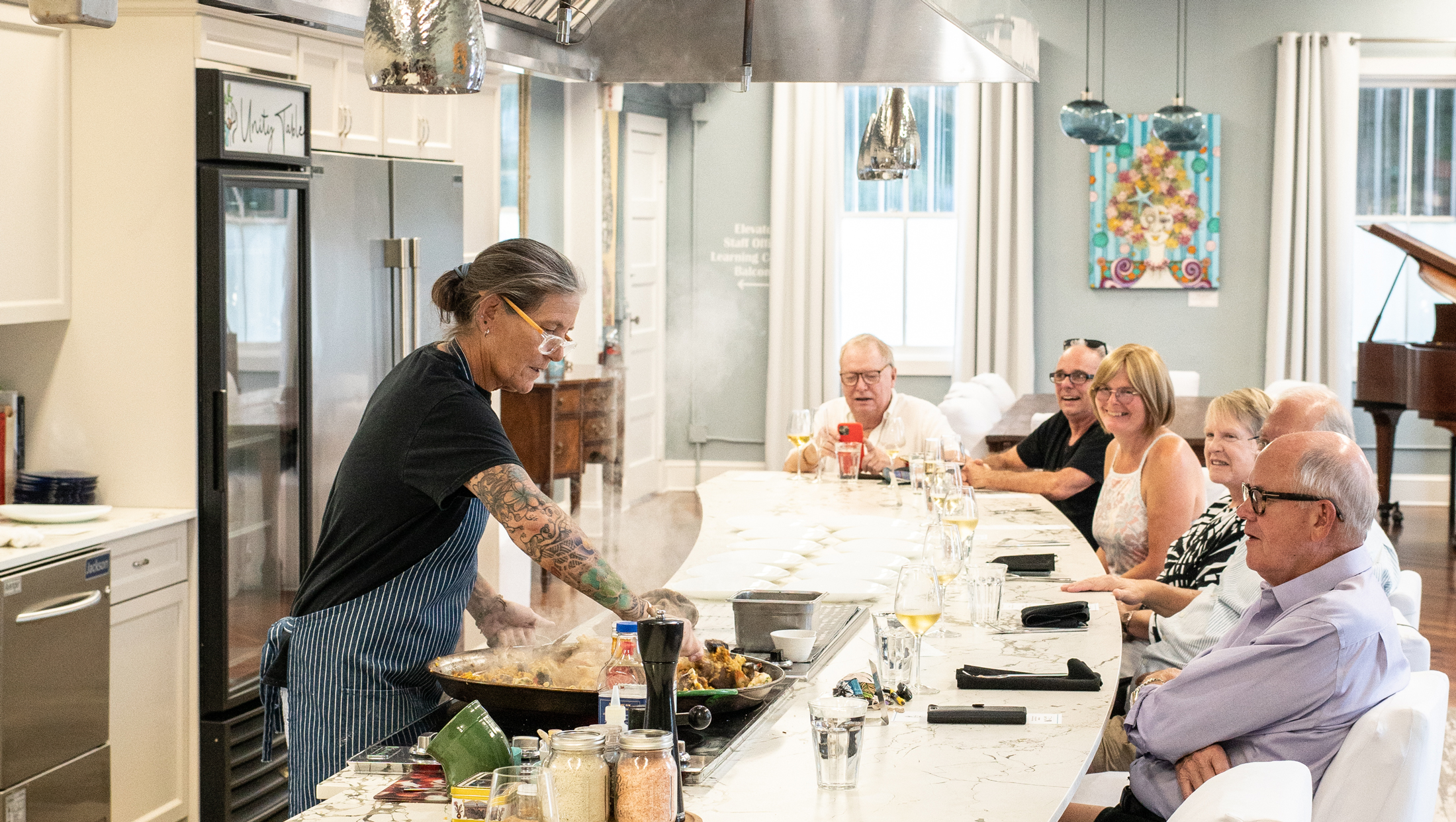 My dining partner, Tony, and his wife Andie are regulars at the Unity Table Dinners. Tony describes chef Martha Hubbard as, "a jazz musician, she improvises three or four course meals based on a theme of ingredients or season or region. And now Unity Table has added chef Abigail Houff who is applying the same nuance, skill, and daring to create her 'plant-based' meals."
The first course and crowd favorite was a Corned Beet Rueben with 3-bean Baharat Salad. How can a beet taste so good? The magic is in an overnight marinade and a two-step cooking process. Everyone marveled at the similarity to an actual Rueben (even homemade non-dairy swiss cheese)!
In between courses I chatted with Chefs Martha and Abigail, at Unity Table, the front row observation seating makes you feel like you are part of the cooking experience. The open kitchen layout was carried over from Isle Cook which started on Whitehead Street and then moved to the owners Maria and Rob Sharpe's Fleming Street house while Williams Hall was under construction. The dinners were finally able to move to Unity Table at Williams Hall in 2021.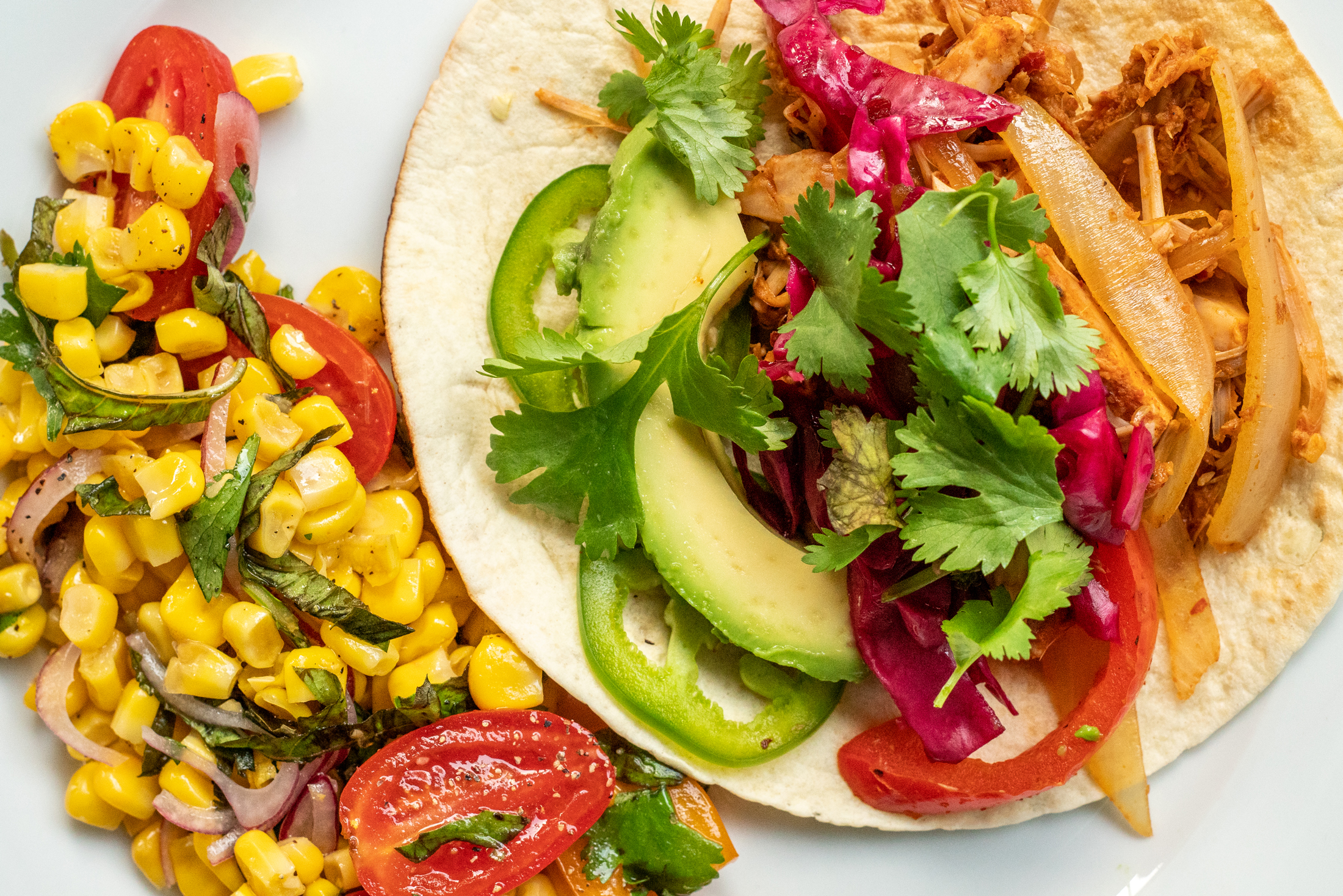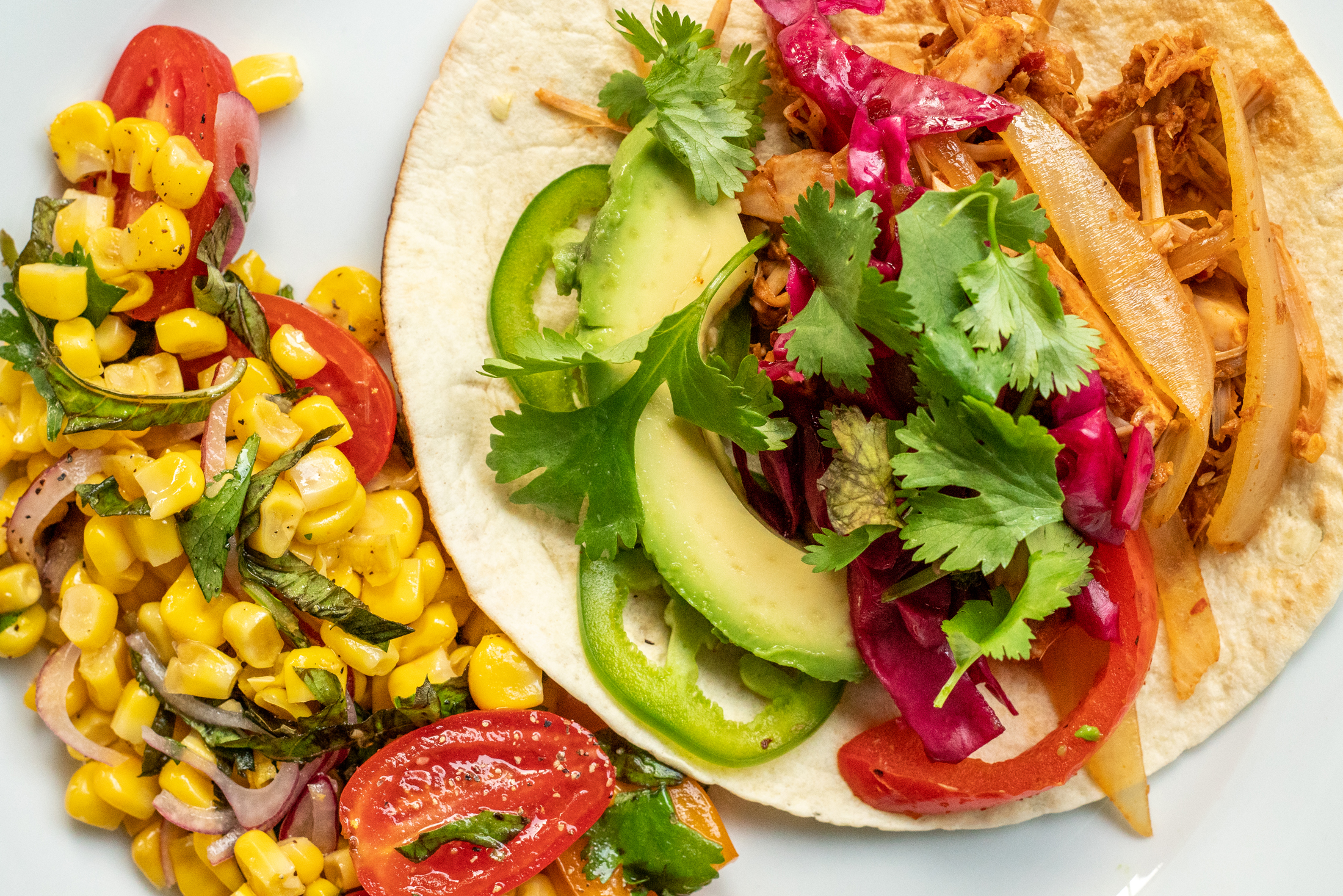 But back to the food! The next course was my absolute favorite – Chipotle Jackfruit tacos and fresh summer corn salad. The spicy seasoned jackfruit, pepper and onion filling, accompanied by creamy avocado, piquant tomatillo sauce, and crunchy purple cabbage, all complemented each other beautifully. The dish absolutely lived-up to Abigail's claim of the "healthiest, tastiest taco you will ever eat."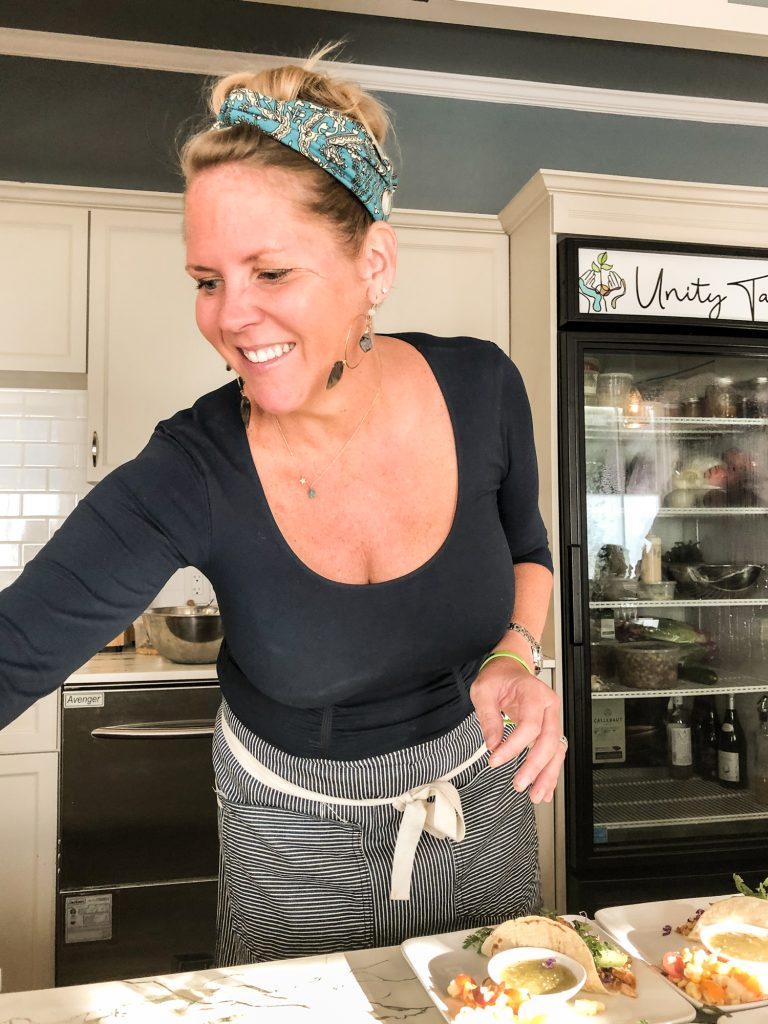 The 3rd course arrived soon after, and again we were all amazed that this delicious food is all plant-based. The marinated portobello mushroom slider was accented by a flavorful pistachio pesto, a creamy herb spread, white balsamic roasted peppers, and a three potato salad. 
Abigail has a certificate in plant-based nutrition from Cornell and firmly believes a plant-based diet can reverse many health issues in addition to being better for our planet. She loves sharing her veggie-full cooking tips and techniques and creating the menus and meals for the Unity Tables dinners. Her passion and precision are evident in the food she prepares. 
The desert course was a decadent zucchini fudge brownie topped with vanilla bean ice cream and a sweet-tart raspberry coulis. As we indulged and finished our wine, several of my dining companions suggested we keep the party rolling and head down the street to the Roost for a night cap. We thanked Abigail, Martha, and Daniel for a spectacular (and healthy-ish) dining experience. As I walked toward the Roost,  I reflected on my night. I met some new friends and reconnected with old ones, and I learned a lot about the flavorful possibilities of plant-based cooking. All in all, a pretty good Key West night.
Chipotle Jackfruit Tacos
For the Chipotle Sauce (you can also substitute a can of enchilada sauce if you're in a hurry or just plain feel like it!)
1 dried Chili de Arbol, reconstituted in boiling water

4 dried Guajillo peppers, reconstituted in boiling water (reserve water)

1 chipotle chili in adobo

1 tbsp adobo sauce

1 tbsp garlic powder

1 tbsp onion powder

Generous glug of honey or agave

1 tbsp juice from a can of peaches (not in syrup)

1 tbsp smoked paprika

1 cup canned petite diced tomatoes

1 tbsp tomato paste concentrate
For Tacos
2 14 oz. cans young jackfruit in brine, well-drained and hand-shredded (I like Native Forest Organic, available on Amazon)

1 tbsp smoked paprika

1 tsp cinnamon

1 tsp chili powder

1/2 tsp smoked salt (if you can't find, use regular sea salt)

1 tsp Montreal Steak Seasoning

1 tsp garlic powder

2 tbsp olive oil, separated

1 green bell pepper, julienned

1 yellow bell pepper, julienned

1 red bell pepper, julienned

1 yellow onion, julienned

Corn or flour tortillas

Avocado (optional)

Cilantro (optional)

Red cabbage, finely shredded (optional)

Radishes, thinly sliced (optional)

Jalapeno slices (optional)

If you're not making vegan tacos, cotija cheese (optional)
Make Sauce:
Add all ingredients to a blender or food processor and liquify. If the sauce is too thick for your liking, add a little of the water you used to reconstitute the pepper. It should be slightly thinner than a ketchup or BBQ sauce you'd buy in a bottle, but not so thin it runs off a spoon.
For tacos:
Preheat oven to 275*
Brush a piping hot grill pan or griddle with olive oil. Grill your taco shells one by one on both sides for sexy grill marks, then wrap in a damp tea towel and tinfoil; place in oven to keep warm.
Combine all dry ingredients in a bowl. Add the jackfruit and toss to thoroughly coat all of the fruit. Cover and chill to marinate, at least an hour or up to overnight, the longer the better.
In a large skillet, heat 1 tbsp of your olive oil on medium high heat. When it shimmers, add all your peppers and onions, with a dash of salt to taste. Sautee about three minutes, until onions are starting to turn translucent. Add jackfruit mixture, stir continuously. When onions are completely translucent, begin to add your sauce, about a half cup at a time, stirring to distribute evenly on your taco filling, and to prevent from sticking to the pan. You do not need to use all your sauce; make them as juicy as you prefer. Cook for about two more minutes, stirring, until all sauce is heated and there are brown bits on your fruit and vegetables.
Using your nice warm taco shells, build your tacos quickly: place a spoonful of your saucy jackfruit in the center of each tortilla, top with your desired garnishes, and enjoy your planty goodness!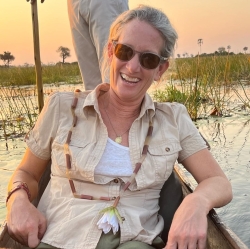 Latest posts by Joy McPeters
(see all)
View All Articles
Post Cards from Paradise
Invites to Parties and Events...